Training by veteran drivers
Carefully crafted career path
Tired of doing manual labor, breaking your back for minimal pay?
Waiting for a tiny pay increase that won't help you reach your goals?

Mast's free CDL Training program is designed to get you into a full-time position as a pro driver,
and provide financial freedom with a stable job.
Top tier training & a great job
without paying for your CDL
The year-long program consists of four phases.
Phase 1 / Mast 1.0
Classroom instruction, maneuvers and road driving
Earn your Class A CDL
Phase 2 / Mast 2.0
On-the-job training over the road with an experienced driver for 11,000 miles
Live in the truck, deliver challenging freight
Gain valuable real-world experience
Phase 3 / Mast 3.0
Drive solo with continued support
Regular check-ins with training, dispatch, and safety teams
Three schedule options to choose from
100K Miles Completed
Become a professional, experienced driver
Choose a schedule and pay plan that work for you and your family
A CDL alone doesn't guarantee success
While a CDL may grant the certification, it does not provide the tools and experience to be a confident professional driver. As seasoned drivers will tell you, their most used skills haven't come from a book, but from hands-on experience. On top of that, proper training and certification are expensive – a hefty investment into a career you've never dipped your toes into.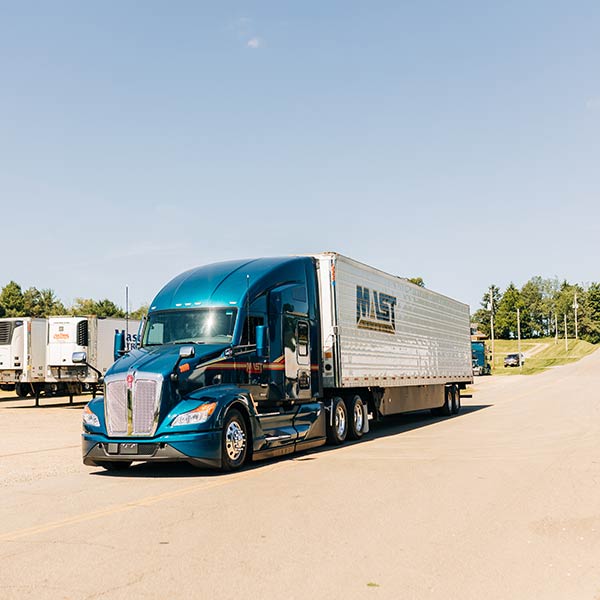 Start your trucking career with an advantage
Other programs require you to pay up to $10K upfront for CDL training. Without a job prospect or proper training.

Real-world experience while training

Guaranteed job after training
Mast CDL Training vs. the other guys
You're one step closer to getting out of that going-nowhere job and increasing your pay so you can reach your financial goals, like owning a home or buying a car, and having a stable career.
But there are LOTS of options out there.
Here's a look at the three primary options you have:
CDL training school, mega carrier or Mast CDL Training.
| | | | |
| --- | --- | --- | --- |
| | Mast CDL Training | CDL School | Mega Carrier CDL Training |
| | Yes. In addition to helping you pass the CDL test, we teach you what it takes be successful as a professional driver who is safe and productive. | No. They set you up to pass a test. But not to become a well-trained driver. | No. The larger companies depend on volume. They hire a ton of potential drivers knowing only a few will make it through. |
| | Yes. And you're a paid employee from Day 1. | No. You pay $10K upfront for CDL training. Then you have to go out and find a job with no training. | |
| | Yes. Our teacher-student ratio is less than 5:1. | No. Classes are large and teacher-student ratios are high with limited time behind the wheel. | No. Classes are large and you'll be one of 100s being trained. |
| | Yes. Our training program will set you up to pass the CDL test and give you the tools you need to be a great professional driver, with several schedule options for your first year. | No. You're on your own – without the necessary driver training – to find a job. | Yes, but many times you'll have limited options. |
Start the journey to become a truck driver
Instead of dreaming about how a better job could help you achieve your goals, like buying a better car, purchasing your first home, or feeling empowered at your job – and take the first step. Work with a small carrier who wants you to succeed.
Your path to a successful trucking career
1
Contact us
Give us a call, text, or chat and talk to the friendly folks in our training department. They'll answer all the questions you have about the CDL training and pro driver program.
2
Follow the pro driver roadmap
Get your CDL, classroom training and real-world experience – with continued support from our entire organization. You'll end the year with the training you need to build a successful career and the benefits and pay that you deserve.
3
Choose your career path
Once you hit 100,000 miles, you can choose your best-fit pay plan and schedule.
Talk to our team about Mast's CDL training program, and learn more about the four steps of the professional driver roadmap.
Be part of one of the most stable
workforces in America today

Essential work
Every day, Mast's drivers haul food for millions of Americans.

Well-paying jobs
Experienced drivers at Mast Trucking earn well over the median US salary.

No degree required
Your experience, practical skills and a work ethic allow you to excel.

Variety of pay plans
Mast Trucking offers pay plans that work well for nearly every lifestyle.
A growing class of trucking all-stars
Since the PDT launched in 2018, many students have successfully completed each phase and transitioned into their thriving careers.
"I feel very fortunate to work for a company that values safety and cares about their employees"
Dhruvjot Singh
"I truly appreciate the 'family' atmosphere at Mast — I am not just a number or another driver. "
Roxanna Regan